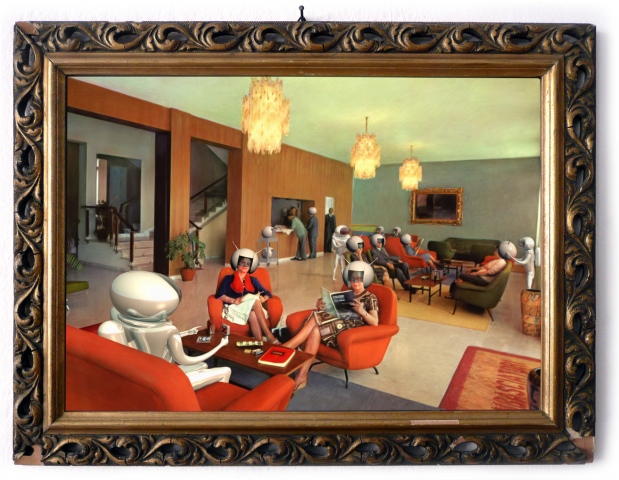 Franco Brambilla
FOLLOW ME ON INSTAGRAM TO ENJOY NEW ARTWORKS:
www.instagram.com/invadingthevintage/
Italian illustrator devoted to sci-fi. Giclee prints of any image available on demand. Since 2000 he has been one of the main illustrators of the "Urania" and "Urania Collezione" sci-ifi book collections by Mondadori. In 2006 with Giacomo Spazio FB creates AirStudio and Limited No Art Gallery: www.flickr.com/photos/limitedmilano/ In 2007 he starts... "Invading the Vintage".
This art project is still running and it has been spotted on Wired USA,
Juxtapoz issue 115, MacUser Uk, The Sunday Telegraph and many
other blogs, e-zines, art-magazines and portfolios. See more here: www.flickr.com/photos/francobrambilla/
FB got the "Best artist" Award at Eurocon European Awards
Fiuggi March 2009 and the "Best Artist" Award at Italcon,
Milano Delos Days 2011, "Carlo Jacono Foundation Award" 2013;
"Best Artist" Award at Italcon, Bellaria 2014 and "Best Illustration Award" at Starcon Bellaria 2015, Chianciano 2017, Stranimondi 2018, Vaporosamente 2019, San Marino 2020, 2021, 2022. "Albina" Award AlbissolaComics 2019. Official guest artist at LuccaComicsandGames in 2019 and 2022.
Contact: brambilla.franco@gmail.com
Clients: Mondadori mass market, Urania, Urania Collezione,
Junior, Strade blu, Best Sellers, Omnibus, Shake Edizioni, Abitare,
Pulp, Ibooks Nyc, Sole 24ore, McKinsey&Company, Pirelli Gomme,
Giunti, Salani, Pearson USA, D La Repubblica delle Donne,
Feltrinelli, Actes Sud, Random House Mondadori Spain, Carraro Group,
Mother Uk, Mursia, Newton Oggi, Focus Italia, E- Il Mensile Emergency, Rolling Stone Italia, New Scientist, TOM Magazine, Vice Magazine Italia, Mousse, Poesia, Moleskine, 40k Book Republic, Kinki Magazine, XL La Repubblica, Delos Digital, Edizioni Imperium, Airone, Icon Panorama, Pearson Italia, AgenziaX, Baldini&Castoldi, Courrier International, Mondadori Education, HeavyMetal Italia.